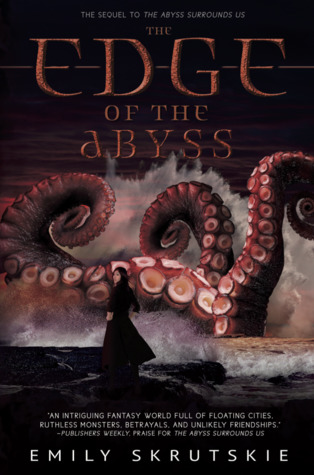 Title: The Edge of the Abyss
Series: Reckoners #2
Publication Date: April 18th, 2017
Publisher: Flux
Author: Emily Skrutskie
Rating: 5/5 Stars
Goodreads page
Amazon
Barnes & Noble
Summary: Three weeks have passed since Cassandra Leung pledged her allegiance to the ruthless pirate-queen Santa Elena and set free Bao, the sea monster Reckoner she'd been forced to train. The days as a pirate trainee are long and grueling, but it's not the physical pain that Cas dreads most. It's being forced to work with Swift, the pirate girl who broke her heart.
But Cas has even bigger problems when she discovers that Bao is not the only monster swimming free. Other Reckoners illegally sold to pirates have escaped their captors and are taking the NeoPacific by storm, attacking ships at random and ruining the ocean ecosystem. As a Reckoner trainer, Cas might be the only one who can stop them. But how can she take up arms against creatures she used to care for and protect?
Will Cas embrace the murky morals that life as a pirate brings or perish in the dark waters of the NeoPacific?
My Thoughts:
Ship:  Cas & Swift
Fave Cinnamon Rolls: Cas, Swift
Needed BROTP: Cas & Chuck
Actual Review: If The Abyss Surrounds Us is a 10/5 then Edge of the Abyss is a 20/5 stars. TEOTA is everything that TASU is and more. It's full of monsters and pirates and science and love and just everything that makes a sci-fi fantasy book perfect.
TEOTA finds Cas a couple of months after she agrees to become a pirate on Santa Elena's ship, The MInnow, and start making her way toward righting the wrong that Fabian Murphy created in the world by being a supplier in black market Reckoners.
The Minnow has made her way to the Arctic to avoid Bao when suddenly a large Reckoner appears on the radar. Except it isn't exactly a reckoner, it doesn't have a companion ship and it isn't taking commands to attack. It is choosing to do so on it's own. Cas and the rest of the crew decide to name these wild reckoners HellBeasts.
The discovery of these Hellbeasts, call a convening of all the pirates to start discussing a plan to take care of this. Because left uncheck, these beasts will completely destroy the nature of the NeoPacific's ecosystem.
All the while this is happening, Cas must also handle the stress of being one of the 5 in the running to potentially take over as Captain should Santa Elena pick her, but to do so Cas must be trained and that means both physical and mental in all ways of being a pirate. Add in a tumultuous love life with Swift, another one of the protegee's and you've got one stressed out teenager.
We get to meet so many more pirates and explore even more of what it means to be a pirate in this semi post apocalyptic world that Skrutskie has created. Another amazing thing is we get so much closure and development for so many of our characters. And we get to see all sorts of Reckoners/HellBeasts in action, it's awesome.
The last third…actually the whole book, is one thrilling page after another. You experience twist after twist all while exploring the amazing scenery and the great story in general.