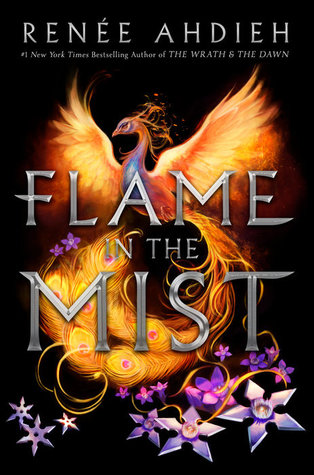 Title: Flame in the Mist
Series: Flame in the Mist #1
Publication Date: May 16th, 2017
Publisher: G.P. Putnam's Sons Books for Young Readers
Author: Renee Ahdieh
Rating: 5/5 Stars
Goodreads page
Amazon
Barnes & Noble
Summary: The only daughter of a prominent samurai, Mariko has always known she'd been raised for one purpose and one purpose only: to marry. Never mind her cunning, which rivals that of her twin brother, Kenshin, or her skills as an accomplished alchemist. Since Mariko was not born a boy, her fate was sealed the moment she drew her first breath.
So, at just seventeen years old, Mariko is sent to the imperial palace to meet her betrothed, a man she did not choose, for the very first time. But the journey is cut short when Mariko's convoy is viciously attacked by the Black Clan, a dangerous group of bandits who've been hired to kill Mariko before she reaches the palace.
The lone survivor, Mariko narrowly escapes to the woods, where she plots her revenge. Dressed as a peasant boy, she sets out to infiltrate the Black Clan and hunt down those responsible for the target on her back. Once she's within their ranks, though, Mariko finds for the first time she's appreciated for her intellect and abilities. She even finds herself falling in love—a love that will force her to question everything she's ever known about her family, her purpose, and her deepest desires.
My Thoughts:
Ship:  Mariko & Okami
Fave Cinnamon Rolls: Mariko, Okami, The Cook
Needed BROTP: Mariko & Yuki
Favorite Quote: "I've never been angry to have been born a woman. There have been times I've been angry at how the world treats us, but I see being a woman as a challenge I must fight. Like being born under a stormy sky. Some people are lucky enough to be born on a bright summer's day. Maybe we were born under clouds. No wind. No rain. Just a mountain of clouds we must climb each morning so that we may see the sun.:
Actual Review: Holy *Beep* on a *beep* Sandwich this book was good. But first I want to address the whole Mulan thing. Flame in the Mist is inspired by Mulan, it is not retelling. So there is no reason to get your panties in a bunch for wrong cultures as it is not a retelling of the Savior of China. The main thing that are similar is it is a female who has to masquerade as a man in a camp of fighters. I say fighters because Mulan infiltrates an actual Army Camp as a soldier where as Mariko is infiltrating NINJAS!!!
Mariko is on her way to the imperial palace to meet her bethrothed, the prince, when her caravan enters the Jukai forest which some believe is haunted as well as the stomping grounds of the Black Clan aka Ninjas who are kinda like Robin Hood but more ninja-like. THey are the scourge of the Emperor and no one really knows who they are or what they are truly like. They are run by Renmaru & Okami who are two Ronin, which i belive are sons of prestigous Samurai's but where unfortunately killed in the past.
Mariko wants to find out why she was targeted to be killed and why the Black Clan was the one to do it. So she sets out to find them and disguises herself as a boy to do so to avoid having her life threatened once more.
Of course, once she is finally in the Black Clan's camp she begins to meet many of the Clan members are starts to slwoly question everything she knew.
While Mariko is doing her own infilatrating, her twin brother, the Dragon of Ka, decides to do some investigating of his own. He knows deep down that she wasn't killed when the caravan was attacked and will stop at nothing to find her and bring her home.
Ahdieh writes yet another beautiful setting and has such a way with words that you don't realize just how far she has pulled you in until you've suddenly finished the book. FITM is no different and is completely different than her amazingly written Wrath and the Dawn series.
The last 10% of the book is just full of surprises and twists and just make you want to jump in the future and get the second book straight away.
Flame in the Mist is an absolute awesome and spellbinding story and i can't wait to see where the sequel takes it.
Also Ninjas.