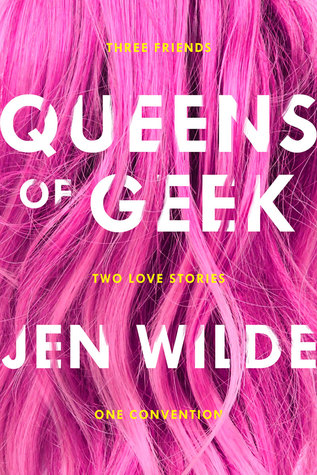 Title: Queens of Geek
Publication Date: March 14th, 2017
Publisher: Swoon Reads
Author: Jen Wilde
Rating: 4/5 Stars
Goodreads page
Amazon
Barnes & Noble
Summary: When BFFs Charlie, Taylor and Jamie go to SupaCon, they know it's going to be a blast. What they don't expect is for it to change their lives forever.
Charlie likes to stand out. SupaCon is her chance to show fans she's over her public breakup with co-star, Reese Ryan. When Alyssa Huntington arrives as a surprise guest, it seems Charlie's long-time crush on her isn't as one-sided as she thought.
While Charlie dodges questions about her personal life, Taylor starts asking questions about her own.
Taylor likes to blend in. Her brain is wired differently, making her fear change. And there's one thing in her life she knows will never change: her friendship with Jamie—no matter how much she may secretly want it to. But when she hears about the Queen Firestone SupaFan Contest, she starts to rethink her rules on playing it safe.
My Thoughts:
Ship:  Charlie x Alyssa, Jamie x Taylor
Fave Cinnamon Rolls: Charlie, Jamie
Needed BROTP:  Jamie & Brianna
Fave Quote: "In one brief conversation, she made me see that there's nothing wrong with me."
Actual Review:  It seems I am to read diverse books lately and this one did not disappoint. It's got a MC who is Chinese-Australian and is openly Bisexual and another MC who is Autistic/Asperger's with major Social Anxiety. While i'm not sure of anyone else's Ethnicity mostly because it's not really described/stated in the book, unless I missed it.
Queens of Geek takes place in a version of San Diego Comic-Con that is probably SDCC but just not called that. So the whole story takes place over one weekend where our 3 main characters, CHarlie, Jamie & Taylor are planning on taking by storm.
Charlie Liang is a popular Australian Youtuber who has also now made it big time in an indie-film that turned out to be the Next BIg Thing so she is at the Con as a big guest ready to make her mark and start the next chapter of her life.
Jamie & Taylor are her two best friends that she has invited along for the ride. Jamie is her best friend since Year 7 who has some major Social Anxiety but knows how to keep it handled. And Jamie is an American transfer to Australia 4 years prior. Taylor & Jamie are the case of mutual hidden unrequited love aka the over used trope of best friends falling in love and will probably be together by the end of the story. Sorry I like the story but just once in a while I want to see a boy & girl friendship that NEVER has romantic feelings within it at all. It is very rare to find, especially in YA novels.
Jamie is not only socially Anxious but she views this weekend as a stepping off point that if things go as planned she can take college by storm in the future. But of course, this is life and stuff doesn't go to planned. Also i think she has a super power because she constantly makes tumblr posts on her PHONE and they are all long and gramatically correct and perfectly spelled and all this pretty formatting that just DOESNT HAPPEN FOR NORMAL PEOPLE! Jamie is a die hard fan of this book's version of HP, majorly popular series with movies based off books. She desperately wants to meet the author to tell her how much an impact the series has made on her and has helped her with her Anxiety. Jamie is basically every fangirl on Tumblr come to life…er i mean page. This weekend ends up being a huge transformation weekend for Jamie as she has to overcome fears and really dig deep on her identity and how she views her self.
I really loved the plot and just overall setting of the story. As I have never been to a Comic-Con, it definitely makes me feel transported there with ease and I can just imagine the Green Room and panels and all the SWAG!
The only thing that kinda takes away is how YA books are beginning to handle sex in relationships. Like just because I personally believe to save it til marriage, It's not that bad when i know the relationship has been developed and is a deep bond between the two. But lately i'm seeing people suddenly putting out practically on the first date which just seems a bit much to me. Especially for these people who are just barely 18. It's not a problem with the book that should turn anyone off because it's so subtle and alluded to in YA books, just a problem i am having with a growing trend.
Queens of Geek, i think at least, really handles the Anxiety and Jamie's character really well. You can see how she thinks and acts but no one really treats her differently because of it. I loved her growth in the story and would love a sequel about her and her new friends she makes at the con.
Overall, QUeens of Geek is a great summer read that you will just fly through. I highly recommend it to all fangirls and fanboys.