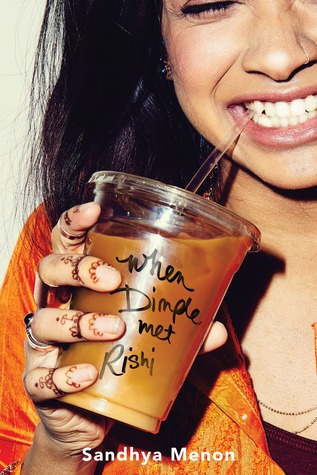 Title: When Dimple Met Rishi
Publication Date: May 30th, 2017
Publisher: Simon Pulse
Author: Sandhya Menon
Rating: 4/5 Stars
Goodreads page
Amazon
Barnes & Noble
Summary: A laugh-out-loud, heartfelt YA romantic comedy, told in alternating perspectives, about two Indian-American teens whose parents have arranged for them to be married.
Dimple Shah has it all figured out. With graduation behind her, she's more than ready for a break from her family, from Mamma's inexplicable obsession with her finding the "Ideal Indian Husband." Ugh. Dimple knows they must respect her principles on some level, though. If they truly believed she needed a husband right now, they wouldn't have paid for her to attend a summer program for aspiring web developers…right?
Rishi Patel is a hopeless romantic. So when his parents tell him that his future wife will be attending the same summer program as him—wherein he'll have to woo her—he's totally on board. Because as silly as it sounds to most people in his life, Rishi wants to be arranged, believes in the power of tradition, stability, and being a part of something much bigger than himself.
The Shahs and Patels didn't mean to start turning the wheels on this "suggested arrangement" so early in their children's lives, but when they noticed them both gravitate toward the same summer program, they figured, Why not?
Dimple and Rishi may think they have each other figured out. But when opposites clash, love works hard to prove itself in the most unexpected ways.
My Thoughts:
Ship:  Rishi x Dimple
Fave Cinnamon Rolls: Rishi, Celia
Needed BROTP:  Celia & Dimple
Actual Review:  When Dimple Met Rishi is the diverse YA Contemporary that we've all been dying for and it does not disappoint in any way. It is one of the most adorable and well written Contemporaries this year and is sure to be the Hit of the Summer.
WDMR is the diverse book that people all over the globe have been wanting because it gives them something that many of us take for granted, a book with MC's and references that they truly can identify with. That being said, almost anyone can identify with Dimple or Rishi, even if they are white. Dimple Shah is a class A geek, she loves coding and wants to branch out on her own and find her independence. She is such a computer geek she even wants to go to a Summer Camp that is all about coding and web app design before the start of her freshman year. Rishi Patel on the other hand has an Artist's heart. But he feels pulled to please his parents and be the perfect eldest son and is currently lined up to go to MIT (which is nothing to sneeze at) and get an Engineering Degree. He feels conflicted between what would be the 'sensible' route and going with his heart, which is something many people can identify with, myself included.
Dimple and Rishi's parents are extremely traditional Indian parents, meaning they want to arrange their children into marriages and ensure their happiness. This being said, Dimple is 100% against this idea where as Rishi wants the stability and security this idea gives. But unbeknownst to Dimple only, this Summer Camp is the primed place to drop some hints and do some subtle or not so subtle nudges from Rishi and both set of parents.
From adorable and awkward meet cutes to amazing dates with perfect views, WDMR is the perfect summer Contemporary YA Romance to sit by the pool and soak in. I recommend drinking an Iced Coffee beverage, 😉 i myself prefer Iced Vanilla Lattes.
The setting was gorgeous California and you definitely felt transported htere and this story is just rife with Hindi and Bollywood references that you feel easily immersed into this culture.
I'd say I personally would want a pronunciation guide but that's just because I like to pronounce things correctly, and i screw up things in every genre…may or may not still think Tobias has a different pronunciation in Divergent than a friend says is correct. But i digress.
Definitely pick up this story when next possible, or even better yet, order it online and have it delivered. Either way, read this adorable story.