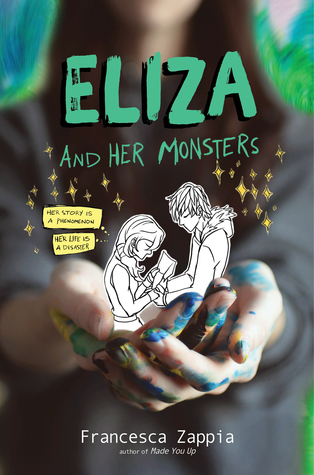 Title: Eliza and Her Monsters
Publication Date: May 30th, 2017
Publisher: Greenwillow Books
Author: Francesca Zappia
Rating: 5/5 Stars
Goodreads page
Amazon
Barnes & Noble
Summary: Eighteen-year-old Eliza Mirk is the anonymous creator of Monstrous Sea, a wildly popular webcomic, but when a new boy at school tempts her to live a life offline, everything she's worked for begins to crumble.
In the real world, Eliza Mirk is shy, weird, smart, and friendless. Online, Eliza is LadyConstellation, the anonymous creator of a popular webcomic called Monstrous Sea. With millions of followers and fans throughout the world, Eliza's persona is popular. Eliza can't imagine enjoying the real world as much as she loves her digital community. Then Wallace Warland transfers to her school, and Eliza begins to wonder if a life offline might be worthwhile. But when Eliza's secret is accidentally shared with the world, everything she's built—her story, her relationship with Wallace, and even her sanity—begins to fall apart. With pages from Eliza's webcomic, as well as screenshots from Eliza's online forums, this uniquely formatted book will appeal to fans of Noelle Stevenson's Nimona and Rainbow Rowell's Fangirl.
My Thoughts:
Ship:  Eliza x Wallace
Fave Cinnamon Rolls: Eliza, Emmy, Max
Needed BROTP:  Eliza & Emmy & Max
Fave Quote: "There are monsters in the sea."
Actual Review:  ALL THE STARS! This book was absolutely delightful.
I was lucky enough to receive Eliza and her Monsters in my May Owlcrate which not only was an exclusive cover but we got to receive it before publication date on May 30th. What more can i say but BUY AND READ THIS BOOK AS SOON AS YOU CAN!!!
While I find myself tending to lean toward fantasy YA novels over contemporary, I do love a good contemporary and this one is as good as it can get. Eliza is such a lovable character that is just so… human. She has her fears and her anxieties and slowly you see her realize she needs help even while still not truly changing who she is on the inside or out.
Wallace is an absolute delight of a boy to have as a book boyfriend…though he can't top Clark from Matson's Unexpected Everything. But Wallace is definitely a close second, you just want to wrap him up in a blanket and give him a big hug. Such a sweetheart. And while he has moments that are less than stellar, he's human and it shows just as much as it does with Eliza.
The story is absolutely amazing and I just about inhaled it. IT was one of those books I just didn't want to put down. Just as people in EAHM inhaled her Monstrous Sea, I inhaled this story.
Eliza and Her Monsters is definitely going to be one of my top reads of 2017 and I plan to explore more contemporaries that have nerds as main characters. Geeks and Nerds are the best.
I also thought this story handled Eliza's anxiety and introvertedness rather well. I don't know much but I didn't feel like it was fake or wrong.
Seriously guys, pick this book up when it gets released. I wouldn't have if it hadn't been for Owlcrate and I'm incredibly grateful because I ADORED this story.