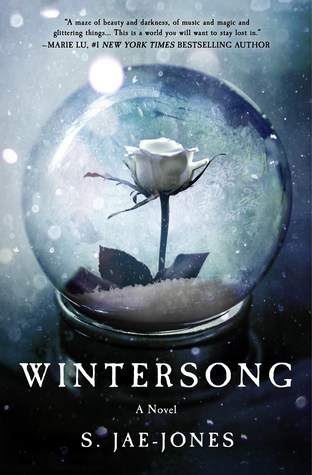 Title: Wintersong
Series: Wintersong #1
Publication Date: February 7th, 2017
Publisher: Thomas Dunne Books
Author: S. Jae Jones
Rating: 4/5 Stars
Goodreads page
Amazon
Barnes & Noble
Summary: Beware the goblin men and the wares they sell.
All her life, nineteen-year-old Liesl has heard tales of the beautiful, mysterious Goblin King. He is the Lord of Mischief, the Ruler Underground, and the muse around which her music is composed. Yet, as Liesl helps shoulder the burden of running her family's inn, her dreams of composition and childish fancies about the Goblin King must be set aside in favor of more practical concerns.
But when her sister Käthe is taken by the goblins, Liesl journeys to their realm to rescue her sister and return her to the world above. The Goblin King agrees to let Käthe go—for a price. The life of a maiden must be given to the land, in accordance with the old laws. A life for a life, he says. Without sacrifice, nothing good can grow. Without death, there can be no rebirth. In exchange for her sister's freedom, Liesl offers her hand in marriage to the Goblin King. He accepts.
Down in the Underground, Liesl discovers that the Goblin King still inspires her—musically, physically, emotionally. Yet even as her talent blossoms, Liesl's life is slowly fading away, the price she paid for becoming the Goblin King's bride. As the two of them grow closer, they must learn just what it is they are each willing to sacrifice: her life, her music, or the end of the world.
My Thoughts:
Ship:  Liesel & Mein Herr
Fave Cinnamon Rolls: Mein herr
Needed BROTP:  Leisel & Kathe
Fave Quote: "There is music in your soul. A wild and untamed sort
of music that speaks to me. It defies all the rules and laws you humans set upon it. It grows from inside you, and I have a wish to set that music free."
Actual Review: 4 Stars for a very lyrical and music filled story that carried me slowly and beautifully through it's settings.
S. Jae Jones decided to take the movie/story of Labyrinth and make it something completely her own. Granted i have never seen the movie so i know next to nothing, tbh i think my only knowledge of Labyrinth/Goblin King is a fanfiction i read a few years ago for the Bellarke ship…so yeah.
The plot was interesting and went in ways i didn't really expect. I thought some actions that were going to take a majority of the time ended up being only a third of the book. So the book wasn't choppy per say but it definitely had this feeling of multiple stories within a story.
I think the writing is positively beautiful and paints so many pictures in your head of the Goblin Grove & Underground. Even though the majority of it is in the "Underground" you get this amazing scenery of where the goblins dwell.
What i found most intriguing was the Goblin King/Mein herr/ Der Erlkönig/ that dude who is the main LI and probably modeled after David Bowie. He had so many masks and facets, that were just really interesting to pull out. But what struck me was his sense of faith. He had a chapel built in the Underground that only he worships and he still prays and keeps his faith. Heck, this guy knows the LATIN prayers. It really struck me to see a sense of a modern faith in such a mythological world.
Liesel was an interesting MC. She is "plain" but talented. I wouldn't say she's one of those "special snowflake" MC's but idk she is just so down on herself. She knows that she is plain and doesn't understand why the Goblin King is in anyway interested in her. But what is interesting, is how much she identifies with her music. She feels as if it's a large part of her identity alongside where she was born and who her family is.
Her family is interesting and I hope we get a new sense of their dynamic in the sequel that will be coming out in 2018.
I definitely liked the story but it didn't grab me and make me want to drop everything and read it. But I will definitely be picking up the sequel next year.