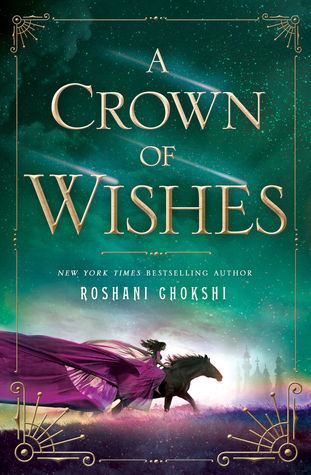 Title: A Crown of Wishes
Series: The Star-Touched Queen #2
Publication Date: March 28th, 2017
Publisher: St. Martin's Griffin
Author: Roshani Chokshi
Rating: 5/5 Stars
Goodreads page
Amazon
Barnes & Noble

Summary: An ancient mystery. An unlikely union. For one young princess in a state of peril, a dangerous wish could be the only answer…
She is the princess of Bharata—captured by her kingdom's enemies, a prisoner of war. Now that she faces a future of exile and scorn, Gauri has nothing left to lose. But should she trust Vikram, the notoriously cunning prince of a neighboring land? He promises her freedom in exchange for her battle prowess. Together they can team up and win the Tournament of Wishes, a competition held in a mythical city where the Lord of Wealth promises a wish to the victor. It seems like a foolproof plan—until Gauri and Vikram arrive at the tournament and find that danger takes on new shapes: poisonous courtesans, mischievous story birds, a feast of fears, and twisted fairy revels. New trials will test their devotion, strength, and wits. But what Gauri and Vikram will soon discover is that there's nothing more dangerous than what they most desire.
My Thoughts:
Ship:  Vikram x Gauri
Fave Cinnamon Rolls: Gauri, Vikram, Aasha
Needed BROTP: Aasha & Gauri
Fave Quote: "A story had no owner ship. A story could break its bones, grow wings, soar out of reach and dive out of sight in the time it took just to draw breath. It meant we weren't walking a cut path. We carved it into existence with
every step."
Actual Review: A Crown of Wishes or affectionately known as ACOW was everything and more that could be imagined as a spin-off companion novel to Roshani Chokshi's debut novel, The Star-Touched Queen. A year ago, I immersed myself into the Otherworld that Chokshi created. And now, I gladly and eagerly return to this world, but a whole new part of it.
Chokshi continues to amaze the senses with her descriptions and vivid imagery of the worlds that Gauri and Vikram have to traverse. For all those who love TSTQ, this story is just as enrapturing and the world is some how even more magical than TSTQ. We get to see the Night Bazaar learn of even more magical celestial beings that are of the Otherworld.
Not only is the scenery magical, but the plot and characters are as well. We get a little slice of remembrance from the first book as soon as we meet Gauri but she is not as we remembered in the first story. Life in Bharata has shaped her and now she is no innocent spring chicken. But she is soon required to pair up with Vikram prince of Ujijain in a tournament where they compete to earn themselves a Wish. And this wish does not have any stipulations like those pesky rules of magic. They can wish for anything their heart desires, of course needing to keep inmind that wishes do not always take shape in exactly they way you expect.An example given is that a wish for rain to slake a field's thirst could actually be such a downpour that the lands flood and wipe out a village.
Nonetheless, Vikram and Gauri must complete their two tasks to win the tournament and earn their wishes as well as figure out a way to also both get out of Alaka. The plot goes in many different directions that are positively magical and right up Chokshi's alley.
As for the question if there is any visibility of any beloved characters from TSTQ? Well, I think i'll leave that for you to discover yourself.
If you loved TSTQ in any way shape or form, than this is most definitely the book for you. BUt be warned, it will make you seriously want to reread TSTQ as well.