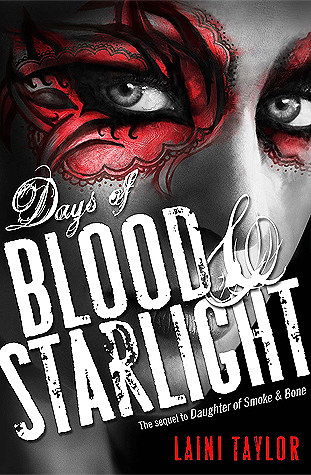 Title: Days of Blood and Starlight
Series: Daughter of Smoke & Bone #2
Publication Date: November 6th, 2012
Publisher: Little, Brown Books for Young Readers
Author: Laini Taylor
Rating: 4/5 Stars
Goodreads page
Amazon
Barnes & Noble
Summary: Once upon a time, an angel and a devil fell in love and dared to imagine a world free of bloodshed and war.
This is not that world.
Art student and monster's apprentice Karou finally has the answers she has always sought. She knows who she is—and what she is. But with this knowledge comes another truth she would give anything to undo: She loved the enemy and he betrayed her, and a world suffered for it.
In this stunning sequel to the highly acclaimed Daughter of Smoke & Bone, Karou must decide how far she'll go to avenge her people. Filled with heartbreak and beauty, secrets and impossible choices, Days of Blood & Starlight finds Karou and Akiva on opposing sides as an age-old war stirs back to life.
While Karou and her allies build a monstrous army in a land of dust and starlight, Akiva wages a different sort of battle: a battle for redemption. For hope.
But can any hope be salvaged from the ashes of their broken dream?
My Thoughts:
Ship:  Mik & Zuzanna
Fave Cinnamon Rolls: Karou, Liraz, Ziri
Needed BROTP: Karou & Ziri
Fave Quote: "I am one of billions. I am stardust gathered fleetingly into form. I will be ungathered. The stardust will go on to be other things someday and I will be free."
Actual Review: *cracks knuckles* OKay let's do this.
The sequel to Laini Taylor's Daughter of Smoke & Bone was just as beautiful if not more beautiful than the first. Days of Blood and Starlight are filled with exactly that, lots of blood and lots of words as if they were pulled from the stars themselves.
The story finds Akiva & Karou a few months after the end of DOSAB and things have changed quite drastically. With the loss of Brimstone, the Seraphim were able to basically crush the Chimera and essentially , in their eyes, win the war. But Karou has something to say about that.
I absolutely love where this story is taking us because it gives us so much more depth to Karou and the war and the two species that Taylor has brought forward to us. We get so many awesome side characters and really get to delve deep into side characters we met in book 1 but now really learn to love in book 2.
The descriptions are just out of this world, i want to tab and highlight whole pages practically. The plot is to die for with all sorts of twists and turns you'd think it was a maze. So many twists that practically make you go WTF?! But i loved every minute of it.
If you liked DOSAB in any way shape or form, definitely continue on to the rest of the series.