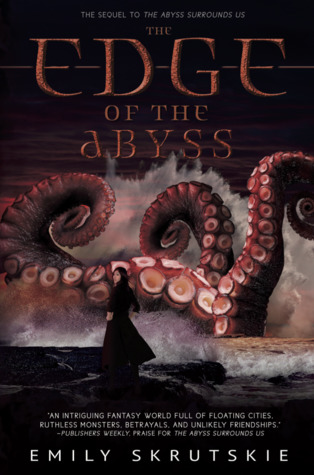 Title: The Edge of the Abyss
Series:  Abyss Surrounds Us #2
Author: Emily Skrutskie
Publication Date: April 18th, 2017
Publisher: Flux
Summary: Three weeks have passed since Cassandra Leung pledged her allegiance to the ruthless pirate-queen Santa Elena and set free Bao, the sea monster Reckoner she'd been forced to train. The days as a pirate trainee are long and grueling, but it's not the physical pain that Cas dreads most. It's being forced to work with Swift, the pirate girl who broke her heart.
But Cas has even bigger problems when she discovers that Bao is not the only monster swimming free. Other Reckoners illegally sold to pirates have escaped their captors and are taking the NeoPacific by storm, attacking ships at random and ruining the ocean ecosystem. As a Reckoner trainer, Cas might be the only one who can stop them. But how can she take up arms against creatures she used to care for and protect?
Will Cas embrace the murky morals that life as a pirate brings or perish in the dark waters of the NeoPacific?
Why I'm Desperately Waiting:  Where do i start?!?! I am so ready for this book that i needed as soon as I finished TASU  A YEAR AGO! And at that point I didn't even know if the sequel was going to be a thing. Look, this book has practically everythign, a POC MC, LGBT MC AND SEA MONSTERS and PIRATES. What is cooler than that? When i read TASU, I inhaled it. It immediately pushed itself to the group of books i think of as my all time favorite books.   Sign me up for book 2!