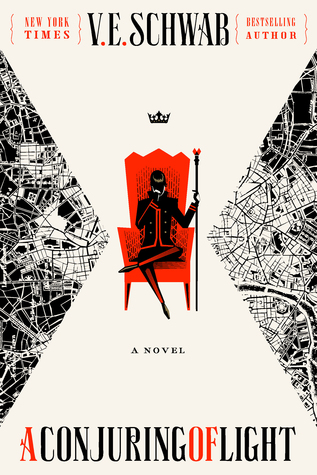 Title: A Conjuring of Light
Series: Shades of Magic #3
Publication Date: February 21st, 2017
Publisher: Tor Books
Author: Victora E. Schwab
Rating: ALL/5 Stars
Goodreads page
Amazon
Barnes & Noble(PS ITS SIGNED)
Summary: Witness the fate of beloved heroes – and enemies.
THE BALANCE OF POWER HAS FINALLY TIPPED…
The precarious equilibrium among four Londons has reached its breaking point. Once brimming with the red vivacity of magic, darkness casts a shadow over the Maresh Empire, leaving a space for another London to rise.
WHO WILL CRUMBLE?
Kell – once assumed to be the last surviving Antari – begins to waver under the pressure of competing loyalties. And in the wake of tragedy, can Arnes survive?
WHO WILL RISE?
Lila Bard, once a commonplace – but never common – thief, has survived and flourished through a series of magical trials. But now she must learn to control the magic, before it bleeds her dry. Meanwhile, the disgraced Captain Alucard Emery of the Night Spire collects his crew, attempting a race against time to acquire the impossible.
WHO WILL TAKE CONTROL?
And an ancient enemy returns to claim a crown while a fallen hero tries to save a world in decay.
My Thoughts:
Ship: Alucard x Rhy, Lila x Kell
Fave Cinnamon Rolls: Hastra, Lila, Alucard, Rhy, Kell
Needed BROTP: Kell & Hastra
Fave Quote: "In myths, the hero survives.
The evil is vanquished.
The world is set right.
Sometimes there are celebrations, and sometimes there are funerals.
The dead are buried. The living move on.
Nothing changes.
Everything changes.
This is a myth.
This is not a myth."
Actual Review: Well this book is just absolutely everything. LIKE I'M STILL NOT OKAY A DAY LATER.
The ending to the Shades of Magic was absolutely everything you expected it to be and so much more. The plot was thrilling, the action was amazing, the romance was almost swoon-worthy, and the twists oh the twists. My little heart can't take it.
Schwab is offically master of the POV change. We flip through so many Points of View in this book it's amazing. And it was one the great things about this book. It seemed to work so seamlessly, that you had to take a second to realize that it was an addition of X POV. We get insight to so many characters that it seems to add another layer to this amazing book.
The Story takes up right after the killer cliff hanger of A gathering Of Shadows and it doesn't let up until the very last page. There is not a single page of boring or calm in this story. So be prepared for that. It is a 600+ page book of THRILL and ANXIETY. There's betrayal and lvoe and action and back story and just so much amazingness. So many great quotes too. This is one quotable piece of fiction.
I don't know how else to describe and review this amazing piece of story without giving away big spoilers but i can say beprepared for Death, lots of death, and lots of plot twists that will wrench your heart in two.
Do remember that Schwab has said that this ARC has ended, whereas we could easily be given more in this world. Kinda like SOC is post Grisha. So begin praying that we get that world soon because it's barely been a day and I already miss my Londons.
Anoshe