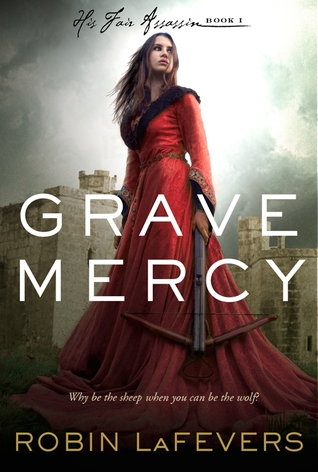 Title: Grave Mercy
Series: His Fair Assassin #1
Publication Date: April 3rd, 2012
Publisher: Houghton Mifflin Harcourt
Author: Robin LaFevers
Rating: 5/5 Stars
Goodreads page
Amazon
Barnes & Noble
Summary: Why be the sheep, when you can be the wolf?
Seventeen-year-old Ismae escapes from the brutality of an arranged marriage into the sanctuary of the convent of St. Mortain, where the sisters still serve the gods of old. Here she learns that the god of Death Himself has blessed her with dangerous gifts—and a violent destiny. If she chooses to stay at the convent, she will be trained as an assassin and serve as a handmaiden to Death. To claim her new life, she must destroy the lives of others.
Ismae's most important assignment takes her straight into the high court of Brittany—where she finds herself woefully under prepared—not only for the deadly games of intrigue and treason, but for the impossible choices she must make. For how can she deliver Death's vengeance upon a target who, against her will, has stolen her heart?
My Thoughts:
Ship: Ismae & Duval
Fave Cinnamon Rolls: Ismae, Anne
Needed BROTP: Ismae & Anne
Fave Quote: "… while I am Death's daughter and walk in His dark shadow, surely the darkness can give way to light sometimes."
Actual Review: Nuns that are assassins.
There is no other way to describe this book that will make someone immediately go dang, i gotta read that.
Grave Mercy, the first in the His Fair Assassin series, focuses on a young lady named Ismae who all her life has known that she was the offspring of a mother who didn't want her and a father that is actually the god/saint of death, Mortain. Her adoptive father doesn't want her and the town hates her because of her scars and who she really is.
But soon after her father tries to sell/marry her off, someone spirits her away to the Convent of Mortain where she meets the Sisters of Death, aka the Nun Assassins. Literally, the abbess can say with a straight face "We Kill people." Of course they don't just kill willy nilly, they see themselves as deliving Mortain's Justice against traitors and those marked by Mortain in their small country/duchy of Brittany. We soon find Ismae a few years later ready to go out on her missions to see if she is up to snuff as an Assassin.
Twists and turns lead Ismae to end up at the Ducchess's court to see whom she can find as the traitor that is helping the french. But regular Court is not with out it's secrets and lies, try adding an secret assassin into the mix. oh how the secrets and plot twists around and around in this story.
I really like Ismae as a character, she wants to prove herself as a daughter of Mortain but after finding out that someone who was marqued was attempting to absolve their sins and ask for forgiveness, she begins to subtly question herself and her orders. The journey Ismae goes on to find herself and her purpose is really interesting and I can't wait to see where it leads in the background of books 2 & 3 which are about 2 other initiates of the convent.
The romance is there but subtle. It's a YA book, of course there's going to be romance but it feels genuine and home-grown.
If you liked Throne of Glass i would recommend this series to you.