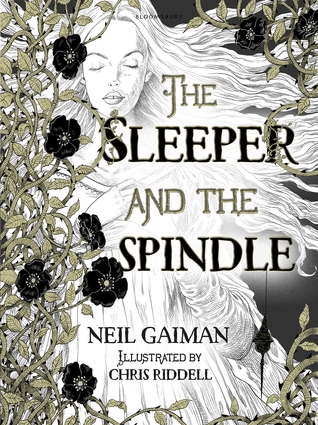 Title: The Sleeper and The Spindle
Publication Date: October 23rd, 2014
Publisher: Bloomsbury Publishing Plc
Author: Neil Gaiman
Illustrator: Chris Riddell
Ratings:
Writing: 4/5 Stars
Illustrations: 10/5 Stars
Goodreads page
Amazon
Barnes & Noble
Book Depository
Summary: A thrillingly reimagined fairy tale from the truly magical combination of author Neil Gaiman and illustrator Chris Riddell – weaving together a sort-of Snow White and an almost Sleeping Beauty with a thread of dark magic, which will hold readers spellbound from start to finish.
On the eve of her wedding, a young queen sets out to rescue a princess from an enchantment. She casts aside her fine wedding clothes, takes her chain mail and her sword and follows her brave dwarf retainers into the tunnels under the mountain towards the sleeping kingdom. This queen will decide her own future – and the princess who needs rescuing is not quite what she seems. Twisting together the familiar and the new, this perfectly delicious, captivating and darkly funny tale shows its creators at the peak of their talents.
Lavishly produced, packed with glorious Chris Riddell illustrations enhanced with metallic ink, this is a spectacular and magical gift.
My Thoughts:
Ship: None
Fave Cinnamon Rolls: None
Needed BROTP: None
Actual Review: WHAT IS IT WITH ME AND BOOKS WITH NO CHARACTER NAMES!?!?! THis is my second book in as many days where the characters have little to no names.
The Sleeper and the Spindle is actually my first Neil Gaiman book (yeah shocking i know, but i haven't gotten around to any of his famous stories, not even Coraline) and i have to say his rhythmic writing takes a bit to get used to but it is very beautiful once you are used to it.
This short novella is both a retelling of Sleeping Beauty & Snow White at the same time and it's quite intriguing. I don't really know how much I'd call this LGBT unless the Queen is Bi as this book doesn't really have much of a romantic aspect to it. And how can it when the book is barely 70 pages in length and filled with absolutely gorgeous illustrations.
Even within 70 pages, this story took interesting twists that i wasn't expecting. It is a cute story and i really want to know more about the Queen and her journeys.