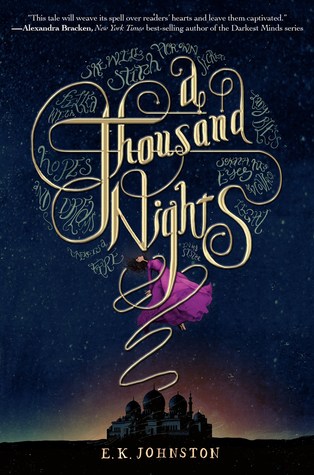 Title: A Thousand Nights
Series: A Thousand Nights #1
Publication Date: October 6th, 2015
Publisher: Disney Hyperion
Author: E.K. Johnston
Rating: 4/5 Stars
Goodreads page
Amazon
Barnes & Noble
Book Depository
Summary: Lo-Melkhiin killed three hundred girls before he came to her village, looking for a wife. When she sees the dust cloud on the horizon, she knows he has arrived. She knows he will want the loveliest girl: her sister. She vows she will not let her be next.
And so she is taken in her sister's place, and she believes death will soon follow. Lo-Melkhiin's court is a dangerous palace filled with pretty things: intricate statues with wretched eyes, exquisite threads to weave the most beautiful garments. She sees everything as if for the last time. But the first sun rises and sets, and she is not dead. Night after night, Lo-Melkhiin comes to her and listens to the stories she tells, and day after day she is awoken by the sunrise. Exploring the palace, she begins to unlock years of fear that have tormented and silenced a kingdom. Lo-Melkhiin was not always a cruel ruler. Something went wrong.
Far away, in their village, her sister is mourning. Through her pain, she calls upon the desert winds, conjuring a subtle unseen magic, and something besides death stirs the air.
Back at the palace, the words she speaks to Lo-Melkhiin every night are given a strange life of their own. Little things, at first: a dress from home, a vision of her sister. With each tale she spins, her power grows. Soon she dreams of bigger, more terrible magic: power enough to save a king, if she can put an end to the rule of a monster.
My Thoughts:
Ship: MC & Lo-Melkhiin
Fave Cinnamon Rolls: None
Needed BROTP: None
Actual Review: 
*begins singing loudly*
Arabian nights, like Arabian days
More often than not
Are hotter than hot
In a lot of good ways
So A Thousand Nights is a retelling of 1001 nights. Yes somewhat like Renee Ahdieh's The Wrath and The Dawn. Except this book is completely different. Do not fear at all that it will seem like a copy if you read this second. The only similarity is the whole beginning premise of man marries then kills his wives. The backstories are completely different and the mythology even has different vibes to it. THis book is actually really intriguing and different. For one thing, the Main Character doesn't have a name. She is always referred to by some kind of title, Lady-Blessed etc. Very few characters actually have a true name in this story. People who have a hard time remembering names will quite enjoy this book.
The elements of magic and mythology are really abound in this book and i love how subtle they are. You slowly learn and evolve with the MC as she experiences all these new things. It really adds to the plot and whole retelling in general. Each character's backstory is really quite interesting as well.
We get quite a bit of backstory and emotion to the MC"s family and it really adds an extra level to the story and the character in general.
While the plot is really intriguing and the characters are unique, the romance kind of falls flat. It really isnt as pretty and sexy as the romance between Shazi & Khalid in TWATD. While I try not to compare books and romances, but this really didn't have much romance to it at all.
I would recommend this book for people who really liked TWATD or The Star- Touched queen.