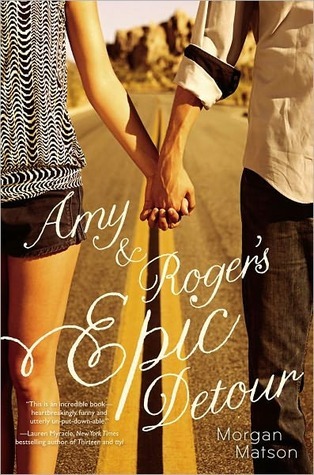 Title: Amy & Roger's Epic Detour
Publication Date: May 4th, 2010
Publisher: Simon & Schuster
Author: Morgan  Matson
Rating: 5/5 Stars
Goodreads page
Amazon
Barnes & Noble
Book Depository
Summary: Amy Curry is not looking forward to her summer. Her mother decided to move across the country and now it's Amy's responsibility to get their car from California to Connecticut. The only problem is, since her father died in a car accident, she isn't ready to get behind the wheel. Enter Roger. An old family friend, he also has to make the cross-country trip – and has plenty of baggage of his own. The road home may be unfamiliar – especially with their friendship venturing into uncharted territory – but together, Amy and Roger will figure out how to map their way.
My Thoughts:
Ship:  Amy & Roger
Fave Cinnamon Rolls: Roger, Lucian, That KS pride guy
Needed BROTP:   Amy & Lucian
Actual Review: "You've got to have pride in your home. You are where you're from. Otherwise, you're always going to be lost."
Let's be real, only read this book if you have enough time to devote to a road trip afterwards because that's what this book makes you want to do. It makes you want to Road Trip. To just get in the car and drive and see what you find.
The story is set on an 18 year old who has to move to Stanwich, Connecticut from sunny California 3 months after a tragic car accident takes her father away from her and her mother has decided that a relocation is what they all need. Of course naturally, Amy now has a fear of driving and needs someone else to drive her and the other family car to Connecticut (which must be a wasteland due to its lack of In-n-Out burger), enter Roger Sullivan who is the son of a family acquaintance. They have to get from CA to CT in 4 days according to an itinerary Amy's mother put together. Well naturally, if the title is anything to go by, the road trip does not follow the itinerary..at all.
In A&RED we get to see quite a bit of America through the eyes of a high school & college students. We get to visit Yosemite & fear bears breaking into bear lockers and learn all about Nu-Way (yes i am from KS and i've never heard of it. BRB gotta find this restaurant). We've got Playlists galore, and such fun little extra notes on pages to really experience what Amy & Roger saw. There's fun tidbits about each state they visit with size (Typically very big, because yeah states are big) and State Mottos (Ad Astra Per Aspra… or to a few Kansans ROCK CHALK. i mean it's my 'state motto'..kinda w/e moving on)
This book is extremely cute and one of those absolute quick reads that you can just sit and get lost in for a few hours and be transported to somewhere completely different. The romance is slow but at just the right pace for a road trip book.
This book only confirms what i've known since reading TUE, I love Morgan Matson's writing and she is an Auto-buy author.