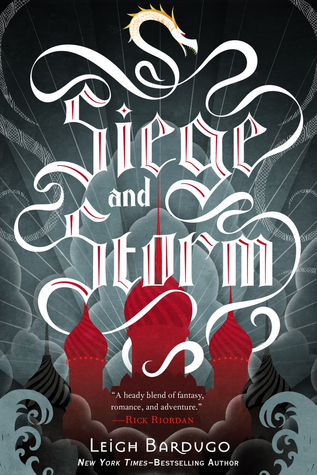 Title: Siege and Storm
Series: The Grisha Trilogy
Publication Date: June 4th, 2013
Publisher: Henry Holt & Co.
Author: Leigh Bardugo
Rating: 5/5 Stars
Goodreads page
Amazon
Barnes & Noble
Book Depository
Summary: Darkness never dies.
Hunted across the True Sea, haunted by the lives she took on the Fold, Alina must try to make a life with Mal in an unfamiliar land. She finds starting new is not easy while keeping her identity as the Sun Summoner a secret. She can't outrun her past or her destiny for long.
The Darkling has emerged from the Shadow Fold with a terrifying new power and a dangerous plan that will test the very boundaries of the natural world. With the help of a notorious privateer, Alina returns to the country she abandoned, determined to fight the forces gathering against Ravka. But as her power grows, Alina slips deeper into the Darkling's game of forbidden magic, and farther away from Mal. Somehow, she will have to choose between her country, her power, and the love she always thought would guide her–or risk losing everything to the oncoming storm.
My Thoughts:
Ship:  None really,
Fave Cinnamon Rolls: Nikolai
Needed BROTP:   Nikolai & Alucard Emery(IDC if he is in a different book)
Actual Review: Okay, i now understand everyone's love of Nikolai Lanstov.
Now if you read my review of Shadow & Bone, you will know I didn't enjoy that piece of Bardugo's writing as much as Six of Crows. Mostly because it lacked that friendship and camraderie aspect that is so abound in SOC. Now I did quite enjoy Siege & Storm, enough so that i felt it deserves a high rating.
It follows Alina after she has run from Ravka & the Darkling with Mal, the tracker. Unfortunately they are only on the run for so long before they are forced to fight for their lives once again and are immediately brought back into the problems of the Darkling, because wouldn't you know there are other Morozova Amplifiers AND they can be combined with the Stag Antlers. And of course, as we learned in book 1, the greed of men (and Darklings) is infinite.
I felt that this book was easier to get into because it wasn't JUST Alina. We have Mal all the way through, Nikolai, the golden eyed Twins Tamar & Tolya and other Grisha. We got to learn about more characters and more about the religion in Ravka.
S&S was definitely much better than S&B in my opinion. The plot was interesting, the other characters were awesome, especially Nikolai. Who would get along so well with VE Schwab's Pirate…excuse me, Privateer Alucard Emery. See 2 peas in a pod.
I still don't buy the romance between Mal & Alina, it just doesn't seem that great. Mal isn't even that great of a character to me. Yes i get he's the childhood friend she's in love with, but he's just kinda boring.
Can't wait to read book 3 and see it all resolved. Then to reread SOC & CK for all the little cameo bunnies.