It's that time of the week again! This week's is the final of a very loved trilogy by Victoria Schwab.  A Conjuring of Light releases February 21st, 2017.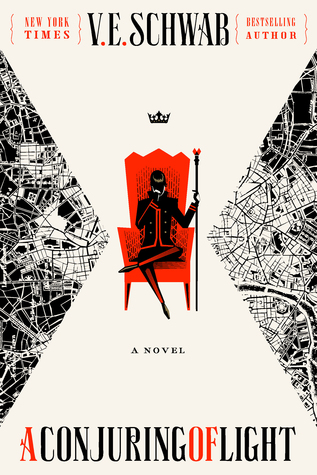 Title: A Conjuring of LIght
Series: Shades of Magic, #3
Author: Victoria (V.E.) Schwab
Publication Date: February 21st, 2017
Publisher: Tor Books
Summary: The battle between four magical Londons comes to a head in this stunning finale to the New York Times bestselling Shades of Magic trilogy by rising star V. E. Schwab
London's fall and kingdoms rise while darkness sweeps the Maresh Empire—and the fraught balance of magic blossoms into dangerous territory while heroes and foes struggle alike. The direct sequel to A Gathering of Shadows, and the final book in the Shades of Magic epic fantasy series, A Conjuring of Light sees Schwab reach a thrilling culmination concerning the fate of beloved protagonists—and old enemies.
Why I'm Desperately Waiting: If you have read the earlier Shades of Magic's novels, you know exactly already why i'm needing this book yesterday. You would already know about the crazy Cliffhanger that left my best friend messaging me in caps and curse words, even though I warned her it had a major cliff hanger. This book is going to be an amazing ending to this series and I hope that Schwab continues exploring this universe just like Leigh Bardugo expanded the Grishaverse with SOC/CK. I'm dying to know the outcome of all my babies and ships.
Are you excited?