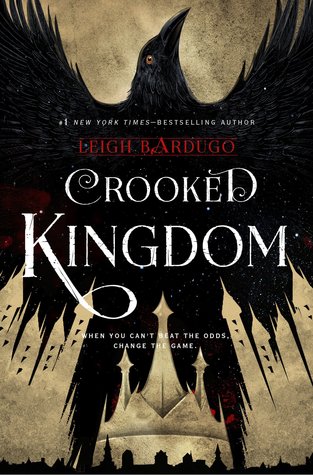 Title: Crooked Kingdom
Series: Six of Crows #2
Publication Date: September 27th, 2016
Publisher: Henry Holt and Co.
Author: Leigh Bardugo
Rating: 10/5 Stars
Goodreads page
Amazon
Barnes & Noble
Book Depository
Summary: Kaz Brekker and his crew have just pulled off a heist so daring even they didn't think they'd survive. But instead of divvying up a fat reward, they're right back to fighting for their lives. Double-crossed and left crippled by the kidnapping of a valuable team member, the crew is low on resources, allies, and hope. As powerful forces from around the world descend on Ketterdam to root out the secrets of the dangerous drug known as jurda parem, old rivals and new enemies emerge to challenge Kaz's cunning and test the team's fragile loyalties. A war will be waged on the city's dark and twisting streets―a battle for revenge and redemption that will decide the fate of magic in the Grisha world.
My Thoughts:
Ship:  ALL THE SHIPS, Inej x Kaz, Jesper x Wylan, Nina x Matthias
Fave Cinnamon Rolls: Jesper 5eva, Nina
Needed BROTP:   The Dregs
Actual Review: 
Oh Crooked Kingdom.. how do I love thee. Let me count the ways. I love your characters, I love your plot, I love your setting and scenery. I love all that you are.
The highly anticipated sequel to Six of Crows by Leigh Bardugo was released in late September and it did not disappoint. Following the highly stressful cliff hanger in SOC, we find our 'heroes' one month later still plotting away to locate Van Eck & Inej.
This book is everything you ever wanted in a sequel. The action, the humor, the romance, the twists, everything. This book will take you for not just one roller coaster ride but a whole dozen of rides. this book is basically one long heart attack, with barely any chapters of rest before another twist happens and they are back to plotting.
A beautiful thing about this series, besides the amazing characters like Nina & Jesper, is that there is no love triangles. Everyone has just one person they are shipped with, with various levels of how far they actually go. Jesper & Wylan have some amazing scenes that will have you laughing and applauding. Nina & Matthias practically ooze lovey dovey and its adorable and of Course our resident Thief & Wraith have some scenes that have you wanting to rip your heart out.
I have had many books in contention for Favorite of 2016 but this one may top them all. I absolutely loved reading Six of Crows and Crooked Kingdom was not any different.
I wont spoil any of the plot, but definitely have tears for Part 6: Action & Echo. because you're gonna need it.
As for Grisha Trilogy, the crossover is much more pronounced as characters show up and its a lot more spoilery for the Grisha Trilogy. Like Royalty Spoilery. So there should be a warning of read Grisha first before at the very least Crooked Kingdom, if not both of the Dregs Duology. IT doesn't ruin the story at all, but now that I know more of what happens, i'll see stuff coming and not be crazy surprised by plot twists. Oh well. Nothing I can do about it.
Highly recommend for all fans of Grisha & anyone who loved Six of Crows. So basically i recommend this series to ALL THE PEOPLE.