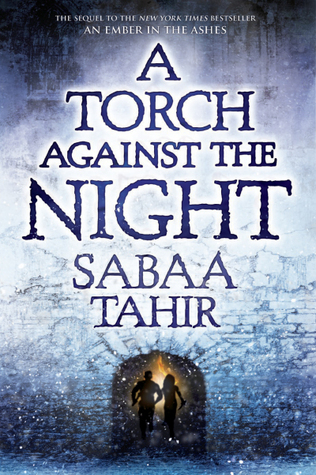 Title: A Torch Against the Night
Series: An Ember in the Ashes #2
Publication Date: August 30th, 2016
Publisher: Razorbill Books
Author: Sabaa Tahir
Rating: 5 Stars
Goodreads page
Amazon
Barnes & Noble
Book Depository
Summary: Elias and Laia are running for their lives. After the events of the Fourth Trial, Martial soldiers hunt the two fugitives as they flee the city of Serra and undertake a perilous journey through the heart of the Empire.
Laia is determined to break into Kauf—the Empire's most secure and dangerous prison—to save her brother, who is the key to the Scholars' survival. And Elias is determined to help Laia succeed, even if it means giving up his last chance at freedom.
But dark forces, human and otherworldly, work against Laia and Elias. The pair must fight every step of the way to outsmart their enemies: the bloodthirsty Emperor Marcus, the merciless Commandant, the sadistic Warden of Kauf, and, most heartbreaking of all, Helene—Elias's former friend and the Empire's newest Blood Shrike.
Bound to Marcus's will, Helene faces a torturous mission of her own—one that might destroy her: find the traitor Elias Veturius and the Scholar slave who helped him escape…and kill them both.
My Thoughts:
Ship:  Elias x Laia
Fave Cinnamon Rolls: Laia, Afya
Needed BROTP:   Afya & Laia, Laia & Helene
Actual Review:  Oh where do I start with this book? It's been an absolute roller coaster of emotions and a great follow up to An Ember in the Ashes. This book does not fall short in any aspect. The romance, the plot, the twists, the scenery, EVERYTHING. If you loved An Ember in the Ashes in any way, you will absolutely love this book just as much. It follows up shortly to the end of Ember with Laia and Elias still in the midst of escaping Blackcliff.
We get a whole new host of characters to join the ones we all already know and love/hate as they go in their different directions & journeys. The Commandant becomes even more psychotic you literally want to set her on fire and push her off a cliff. Marcus elevates to Emperor of creepiness and Keenan…well let's just say he has something of mine with his name on it and it may rhyme far.
Helene get's her own POV chapters in Torch and they do not disappoint. I neither hated nor faved Helene in book one but i am absolutely invested in her storyline now. Her & Laia are some great female characters because they are both so diverse and easily seen as human. They aren't perfect, they aren't always strong, they can be tricked and they make mistakes. So many MCs don't always come off that way, but i think Sabaa captures that perfectly in all her characters, even the dicks.
I absolutely love all the description. What i love about unexpected longer series, is just how much more depth and twists Authors can pull out. OH it's not just this war that's happening but there's also this big thing over here that also includes mythical things etc. It adds like ten extra levels to these books. I've noticed TOG doing it (literally Book 1 & book 3/4 are like two completely different series practically with all the extra plots & background) and now Ember series is going that same direction, but slightly more cohesive. Maybe that's because there's only 2 books so far >.<.
I highly recommend this book to anyone who read the first one and loves this type story. I also recommend this series to anyone who is a history nut (especially Roman history)