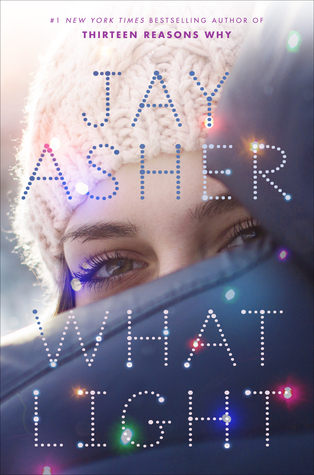 Title: What Light
Publication Date: October 18th, 2016
Publisher: Razorbill Books
Author: Jay Asher
Rating: 5 Stars
Goodreads page
Amazon
Barnes & Noble
Book Depository
Summary: Sierra's family runs a Christmas tree farm in Oregon—it's a bucolic setting for a girl to grow up in, except that every year, they pack up and move to California to set up their Christmas tree lot for the season. So Sierra lives two lives: her life in Oregon and her life at Christmas. And leaving one always means missing the other.
Until this particular Christmas, when Sierra meets Caleb, and one life eclipses the other.
By reputation, Caleb is not your perfect guy: years ago, he made an enormous mistake and has been paying for it ever since. But Sierra sees beyond Caleb's past and becomes determined to help him find forgiveness and, maybe, redemption. As disapproval, misconceptions, and suspicions swirl around them, Caleb and Sierra discover the one thing that transcends all else: true love.
What Light is a love story that's moving and life-affirming and completely unforgettable.
My Thoughts:
Ship: Sierra x Caleb
Fave Cinnamon Rolls: All of them
Needed BROTP: Abby & Sierra
Actual Review: "It smells like Christmas. This is what so many people say when they first arrive, as if the words were waiting to be spoken the entire drive over."
What other description is there for a Christmas Tree lot full of Oregon trees in a lot in sunny California. And that is exactly what Jay Asher's new book is all about. Christmas Spirit, romance and learning to forgive the past. This book will have you laughing and crying within the same few pages.
Once again, Jay Asher has stunned me and proven just how of a talented writer he could be. This story centers around junior Sierra who for 11 months of the year is from Oregon, but not just Oregan, a Christmas Tree Farm in Oregon. For a little over 1 month of the year, Sierra lives with her two parents in a small trailer on her family's Tree Lot in California as they sell their trees. Sierra has two lives, her friends and life in Oregon but also her friends and life in California. Each year she is filled with bittersweetness no matter where she is headed towards.
This year however, a few new twists have been thrown into Sierra's life. She fears that this may be the last year they visit California, but not only is that twist slightly dampening her Christmas spirit, but a young, attractive man named Caleb continuously shows up at the Lot to purchase trees. Even though she is warned away by her friends with rumors and warnings, Sierra and Caleb can't help but feel drawn to each other.
What LIght follows Sierra's time in California and her possible whirlwind romance with Caleb. The plot and story had me never wanting to put the story down and the characters are just as real feeling as ever. Asher never ceases to amaze me with just has human and natural his characters feel. And of course, there is always that message/take away that hits you with oomph. If you've read his debut, THirteen Reasons Why, you know what i'm talking about. Trust me, this book is JUST as good, while seeeming much lighter than his other stories.
I hope you all pick this up with the coming Wintery time and love this book as much as i do.
Recommend for Christmas time and fans of Asher's other works.
Also, i totally wrote this review while listening to Christmas music. #noshame