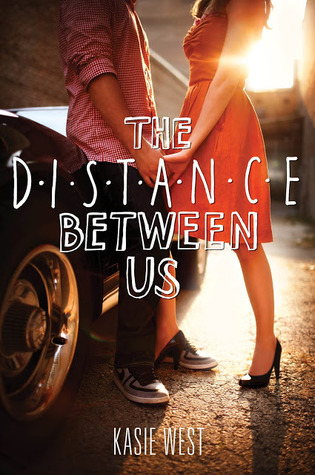 Title: The Distance Between Us
Publication Date: July 2nd, 2013
Publisher: Harper Teen
Author: Kasie West
Rating: 4 Stars
Goodreads page
Amazon
Barnes & Noble
Book Depository
Summary: Seventeen-year-old Caymen Meyers studies the rich like her own personal science experiment, and after years of observation she's pretty sure they're only good for one thing—spending money on useless stuff, like the porcelain dolls in her mother's shop.
So when Xander Spence walks into the store to pick up a doll for his grandmother, it only takes one glance for Caymen to figure out he's oozing rich. Despite his charming ways and that he's one of the first people who actually gets her, she's smart enough to know his interest won't last. Because if there's one thing she's learned from her mother's warnings, it's that the rich have a short attention span. But Xander keeps coming around, despite her best efforts to scare him off. And much to her dismay, she's beginning to enjoy his company.
She knows her mom can't find out—she wouldn't approve. She'd much rather Caymen hang out with the local rocker who hasn't been raised by money. But just when Xander's attention and loyalty are about to convince Caymen that being rich isn't a character flaw, she finds out that money is a much bigger part of their relationship than she'd ever realized. And that Xander's not the only one she should've been worried about.
My Thoughts:
Ship:  Cayman x Xander
Fave Cinnamon Rolls: Xander,Sky
Needed BROTP:  Cayman & Lucas
Actual Review: Okay, it's been over a week since I've finished the book and it was an audiobook so let's see how much I can remember. The Distance Between Us was a fun quick contemporary romance read that seems to be Kasie West's style in general. I have previously read PS I like You by KW and inhaled that book in a day. When this audiobook popped up in my library rental app for that day checkout, I decided to give it a try. Then there was also the upside of it was not even 7 hours long so I knew it was going to be another quick 'read'.
The story revolves around Cayman Meyers who is by her accounts quite poor and works/lives in her Mom's Doll Shop. Not dolls like America GIrl or Barbie but those porcelain ones that only old ladies seem to like. Cayman's outlook on life is heavily influence by her close-knit relationship with her mother who had Cayman very young after being snubbed by her rich boyfriend, his family and her own family who then proceeded to disown her. So non the less Cayman has been influenced that Rich People are only out for themselves. Now that I think about it, this book almost has those Gilmore Girl undertones to it, except people hate Chris from later stuff not from him ditching her when they were 16 bc we know Lorelai ditched them instead of being told to ditch. … sorry i got off on a weird GG related tangent. Sorry.
So where were we, right Cayman is only slightly jaded towards rich people, even though it's all through her mom's experience. But than Alexander "Xander" Spence enters her life and he is nothing like what she expects. Xander truly seems to care and has this unique and lovely air about him.
He proceeds to set up 'career days' for the both of them as it has come out that neither of them want the life that seems to be ahead of them but don't know what else there is to do. So he sets up Career Days as a way for Cayman to find something else. It's actually quite sweet in the end and he has this great quote during the PHotography CD that i wish i had written down but I've already turned in the audiobook, oh well.
Overall, the plot was short, cute and while you feel you can expect where this will turn it still has some delightful unexpected aspects. Cayman does have a good support system around her in her mom & her friends like Sky & Henry. Xander has a lovely family and Lucas is literally mine, i claim him. He's a hilarious rich science guy. Perfect.
The Romance between Cayman and Xander is cute but does feel slow to finally take, though I think that may be KW's style. I do plan to read more of her stories no matter what.
Kasie West knows how to write an adorable YA Contemporary Romance story with loveable characters and enough whimsy that you dont' want to put the story down.
I would recommend this to fans of Morgan Matson and Contemporary fans.