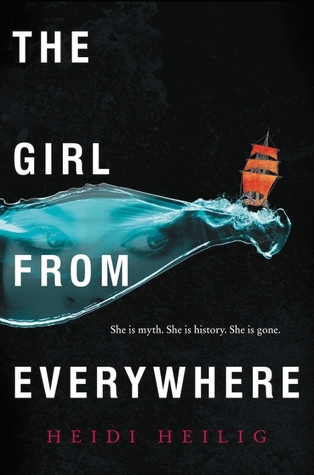 Title: The Girl From Everywhere
Series: The Girl From Everywhere, #1
Publication Date: February 16th, 2016
Publisher: Greenwillow Books
Author: Heidi Heilig
Rating: 3.5 Stars
Goodreads page
Amazon
Barnes & Noble
Book Depository
Summary:   Nix has spent her entire life aboard her father's ship, sailing across the centuries, across the world, across myth and imagination.
As long as her father has a map for it, he can sail to any time, any place, real or imagined: nineteenth-century China, the land from One Thousand and One Nights, a mythic version of Africa. Along the way they have found crewmates and friends, and even a disarming thief who could come to mean much more to Nix.
But the end to it all looms closer every day.
Her father is obsessed with obtaining the one map, 1868 Honolulu, that could take him back to his lost love, Nix's mother. Even though getting it—and going there—could erase Nix's very existence.
For the first time, Nix is entering unknown waters.
She could find herself, find her family, find her own fantastical ability, her own epic love.
Or she could disappear.
My Thoughts:
Ship:  Nix & Kashmir
Fave Cinnamon Rolls: Kashmir, Swag
Needed BROTP:  The Crew
Actual Review: Let me tell you something, i absolutely loved this book. But sydney you rated it 3.5 stars. Yes i know and i'm going to tell you why. THis book has great things, it has diversity, time traveling, Mythical beings, ghost wives it has it all. But let me tell you what it also has, a very very very pointless and annoying love trianlge with what my friend and I akin to the Jane the VIrgin love triangle where one of the guys is pathetic and boring and just needs to go the Eff away.
Plot: So the plot was actually really interesting and I totally click with Nix on her continuous self struggle about helping her father with his jobs because how do you make that kind of decision at 16. I loved all the time periods that were referenced or actually visited which was really cool.
Setting: this was the coolest thing ever. It was mainly focused on late 1800's Hawaii but we were in china & new york for some time and it all is because of a time traveling pirate ship called The Temptation. The author paints the pictures beautifully that i felt like i was really there.
Characters: Most of the charactesr were actually really interesting and cool. I loved all the diffrent crew members and their stories. Also there's a sea dragon named Swag, you can't much cooler than that.
Romance: Okay, here's what has caused this story to go from a solid 4+ to a 3 – 3.5. Once NIx and crew are in Hawaii we meet a character named Blake Hart and omg he becomes the most pathetic and obnoxious character
(view spoiler)
It's one of those love triangles that is there purely for the sake off having a love triangle and it hasn't been solved. it will drag on to the next book or so and honestly it makes me very just UGH. I dont read these books to deal with pathetic characters and love triangles that are pain in the ass. I read books for the adventure and fantasy and beautiful setting.
Overall: This book was really quite enjoyable as it began but with the addition of Blake and continuous appearences of him, it bumped it down to a 3.5.
I would recommend this to fans of Time travelling stories & The Abyss Surrounds Us.