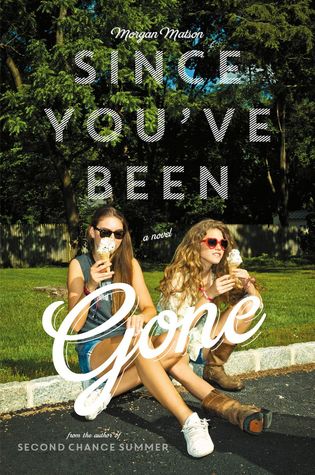 Title: Since You've Been Gone
Publication Date: May 6th, 2014
Publisher: Simon & Schuster
Author: Morgan Matson
Rating: 5 Stars
Goodreads page
Amazon
Barnes & Noble

Summary: It was Sloane who yanked Emily out of her shell and made life 100% interesting. But right before what should have been the most epic summer, Sloane just…disappears. All she leaves behind is a to-do list.
On it, thirteen Sloane-inspired tasks that Emily would normally never try. But what if they could bring her best friend back?
Apple picking at night? Okay, easy enough.
Dance until dawn? Sure. Why not?
Kiss a stranger? Um…
Emily now has this unexpected summer, and the help of Frank Porter (totally unexpected), to check things off Sloane's list. Who knows what she'll find?
Go skinny-dipping? Wait…what?
My Thoughts:
Ship:  Dawn & Collins, Frank & Emily
Fave Cinnamon Rolls: Collins
Needed BROTP:  Emily & Dawn, Frank & Collins,
Actual Review: In a well-ordered universe, I WOULD READ THESE BOOKS IN THE CORRECT ORDER. Because then i would know if i'm missing cameos/references to her other books while i'm reading this.
This book is another absolute masterpiece by Morgan Matson and i adored it. If I could give it more than 5 stars i would.
The setting is the same small town I grew to love in TUE & I fell even more in love with it. If i could move there I would. I could just picture Paradies Ice Cream & Captain pizza and the beautiful beach as Emily grew during her summer with the list. I had a few theories on what exactly was the reason Sloane had just up and disappeared and I am really happy we did get a true resolution with it. I loved the host of characters that Morgan brought up as Emily's supporting cast and family during this summer. Her brother is adorable and her parents are just so odd and caring that you can't help but just love them. Frank & Collins are great and I do really like Dawn and understand all her thoughts completely.
Each chapter is titled/focused on a specific list item without it seeming to be choppy. Sometimes you know before Emily does which LIst item is being checked off. And it made the book so much more fun.
Yes you can kind of see the romance coming a mile away bc it literally even had the 'sleeping together but not SLEEPING together' trope right there. While somewhat tired in fanfictions it's welcome and fun in books.
ALSO SO MANY PLAYLSITS, i need to go through and add all the songs and make playlists on my itunes bc just soo much musice ITS AWESOME!!.
Another fabulous book by Morgan Matson and I am very pleased by it. Will definitely read it again and read the rest of hers.
Recommend reading this in the summer time alongside her other book, The Unexecpeted Everything aka the best book ever published bc its fabulous.