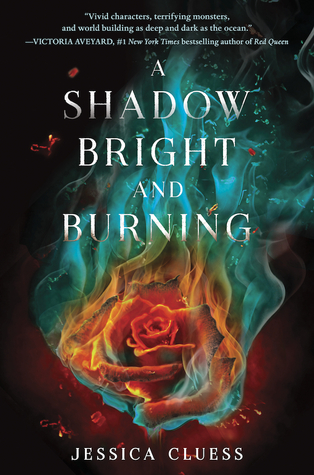 Title: A Shadow Bright & Burning
Series: Kingdom of Fire, Book #1
Publication Date: September 20th, 2016
Publisher: Random House
Author: Jessica Cluess
Rating: 5 Stars
Goodreads page
Amazon
Barnes & Noble
Book Depository
Summary: I am Henrietta Howel. The first female sorcerer. The prophesied one. Or am I?
Henrietta Howel can burst into flames. When she is brought to London to train with Her Majesty's sorcerers, she meets her fellow sorcerer trainees, young men eager to test her powers and her heart. One will challenge her. One will fight for her. One will betray her. As Henrietta discovers the secrets hiding behind the glamour of sorcerer life, she begins to doubt that she's the true prophesied one. With battle looming, how much will she risk to save the city–and the one she loves?
My Thoughts:
Ship:  Henrietta & Blackwood
Fave Cinnamon Rolls: Henrietta
Needed BROTP:  Henrietta & Lizzy
Actual Review:A Shadow Bright & Burning is a magical new story and a fiery new debut for Jessica Cluess. It focuses on Henrietta Howel and her quite fiery disposition when she is forced to reveal her magic to save her life long friend. She and her friend are swept into the world of the sorcerers and the politics of Sorcerers, Ancients & Magicians all set in steampunk London.
The characters, oh the characters. I loved just about every character. Though Magnus has a little fall from grace near the end that knocked him out of running and forever locking the magnifficent warlock that is Magnus Bane in my heart as #1. Because seriously, name a character magnus in a YA novel and im picturing Harry Shum JR from Shadowhunters (Bc he is perfection. OKay? Okay.) I would love love LOVE the sequel to really explore the side characters more and judging by how the book ended I expect we shall see plenty more of the female friends in Henrietta's life.
The plot was rather interesting and i loved learning all about the backstory of Henrietta as she learns more about herself and her situation. Her group of boys were lovable and i would love to live in this world, even with the Ancients threatening them. There were twists I very so slightly saw coming in regards to magicians but it was a toss up to what the truth was. I loved how the prejudice against women was handled in each of the characters based on their upbringing and views.
The scenery was vivid and you could just smell the british tea and hear the accents. Howell's maid, Lily is just so quintiscentially british you can practically hear it.
If the synopsis & review so far isn't enouhg to convince you to pick it up, the great magical source/wand thing that Henrietta recieves and can name (magnus's is named Excalibur) is Named Porridge. Yup, POrridge. So this book is full of bits of humor just like that.
Absolutely recommend to fans of magical stories like Harry Potter.