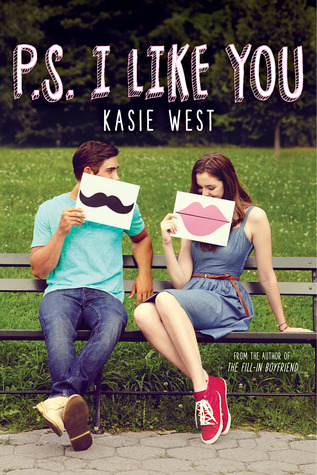 Summary:  Signed, sealed, delivered…
While spacing out in chemistry class, Lily scribbles some of her favorite song lyrics onto her desk. The next day, she finds thatsomeone has continued the lyrics on the desk and added a message to her. Intrigue!
Soon, Lily and her anonymous pen pal are exchanging full-on letters—sharing secrets, recommending bands, and opening up to each other. Lily realizes she's kind of falling for this letter writer. Only, who is he? As Lily attempts to unravel the mysteryand juggle school, friends, crushes, and her crazy family, she discovers that matters of the heart can't always be spelled out…
Goodreads page   Amazon Barnes & Noble   Book Depository
My Thoughts:
Stars: 5/5
Ship: Cade & Lily
Fave Cinnamon Rolls: Lily Abbot
Needed BROTP: None
Actual Review:
I should've known after everyone else's comments about reading this into the wee hours of the night that I would easily finish this the day I started it. And boy were they all right. Every free second I had at school, my nose was in this book and I was done by day's end.
This story follows a high school Junior, Lily Abbot, as she struggles through Chemistry, crushes on an elusive Senior and jots random lyric & song ideas instead of taking notes. Oh and she also has a high school 'nemesis' by the name of Cade Jennings who gave her a nickname a few years back that stuck like a 'Magnet'.. sorry couldn't resist.
One day, Lily randomy jots down a lyric from a favorite song and when someone replies to it the next day, it sets off on a pen pal like fantasy akin to You've Got Mail which is one of my ABSOLUTE favorite movies.
As she and her pen pal exchange more and more letters, Lily also finds herself constantly thrown together with Cade all the while she is trying to write the perfect song for a Song Contest a prestigious university was throwing.
This book is the epitome of contemporary High School YA Novels. It's got B**chy popular girls, the bad boys, and of course the girl who somehow gets the guy.
Why I LOVED this one much more than others I have read (i.e. AATFK) is because LIly ALWAYS maintains that she can be happy with or without a guy. Her happiness and selfworth are not male dependent. No matter how often her best friend tries to set her up with someone. That feels so refreshing for a HS YA Female Protag.
The setting was believable and the plot was fun. I loved reading all the notes and fights. It was so easy to relate to Lily and I actually liked how it ended, even though you dont know if she wins the song contest or not.
This book is a VERY quick read, seriously you will not want to put this down once you start and I highly recommend it for fans of Morgan Matson.