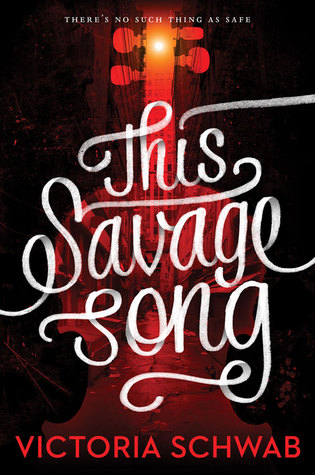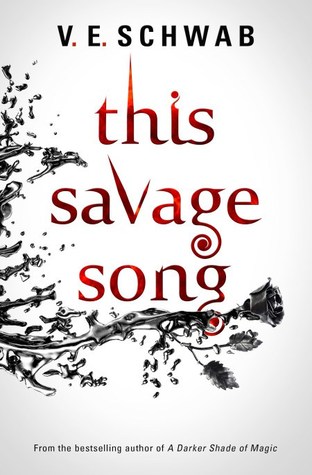 Summary:   There's no such thing as safe in a city at war, a city overrun with monsters. In this dark urban fantasy from author Victoria Schwab, a young woman and a young man must choose whether to become heroes or villains—and friends or enemies—with the future of their home at stake. The first of two books.
Kate Harker and August Flynn are the heirs to a divided city—a city where the violence has begun to breed actual monsters. All Kate wants is to be as ruthless as her father, who lets the monsters roam free and makes the humans pay for his protection. All August wants is to be human, as good-hearted as his own father, to play a bigger role in protecting the innocent—but he's one of the monsters. One who can steal a soul with a simple strain of music. When the chance arises to keep an eye on Kate, who's just been kicked out of her sixth boarding school and returned home, August jumps at it. But Kate discovers August's secret, and after a failed assassination attempt the pair must flee for their lives.
Amazon   Barnes & Noble   Book Depository
My Thoughts:
Stars: 4/5
Ship:  Leo & my Car
Fave Cinnamon Rolls: Ilsa, August, Allegro
Needed BROTP:  Ilsa & Allegro & August, August  & Kate
Actual Review:   This Savage Song is definitely a solid 4/5 stars or maybe even more depending on your taste. Just as the author promised there is absolutely no romance and it is actually quite refreshing for a story to not have any hints of romance what so ever.
This story has continual references and tones of music and rhythm and I absolutely adore the way Schwab wrote this story in the parts of a song. With a Prelude, 4 verses to split the chapters is such a genius way to split the story.
August & Kate are completely relatable characters with their unique perspectives that absoultely test the way people think of people & monsters. You can never really tell who are the monsters in this story until almost the very end. The cast of characters that Schwab has created is quite diverse and all have their own voice & personality. I love them almost as much as the characters in Shades of Magic.
I'm not really sure what else to say about this book, it's just such a different style story that you can't help but like even though its so vastly different.
Thanks to Owlcrate for including this in their July Box. I do highly recommend this story to Schwablins (VE Schwab fans) and fans of paranormal fantasy.