For today's WoW. I've decided to go a bit closer to home and my heart. Though i haven't read the Fourth Book of the series (waiting on my paperback copy to even be released),   I am EAGERLY waiting on Sarah J. Maas' Fifth Entry into the Throne of Glass Series :Empire of Storms released September  6th, 2016. I'm also eagerly waiting September 17th where i'll get to meet SJM & have her sign my books during her EOS tour.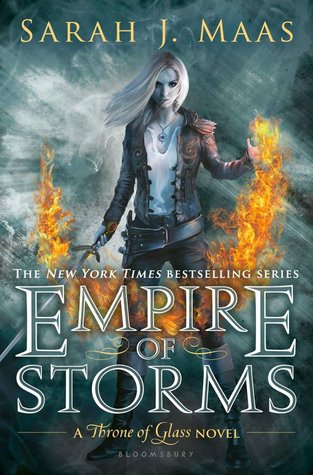 Summary:  The long path to the throne has only just begun for Aelin Galathynius. Loyalties have been broken and bought, friends have been lost and gained, and those who possess magic find themselves at odds with those don't.
As the kingdoms of Erilea fracture around her, enemies must become allies if Aelin is to keep those she loves from falling to the dark forces poised to claim her world. With war looming on all horizons, the only chance for salvation lies in a desperate quest that may mark the end of everything Aelin holds dear.
Aelin's journey from assassin to queen has entranced millions across the globe, and this fifth installment will leave fans breathless. Will Aelin succeed in keeping her world from splintering, or will it all come crashing down?
Why I'm desperately Waiting?
For the longest time, I have attributed Sarah J. Maas and the Throne of Glass series for being the reason I've refound my love of reading. Picking up TOG last November and reading it non-stop that weekend had completely reawakened that part of me. I loved Celaena to death and the story was completely new and unique to me. I continued to love Crown of Midnight( even with the PAIN) and Heir of Fire. I will be reading Queen of Shadows once I get my paperback copy and then once my Book Depository UK PB version comes in, I will most likely be powering thorugh that as well.
This story and universe is one that I will want to continue to read and return to over and over.
Besides, look how badass that cover is.
Preorder:
Amazon
Barnes & Noble
Book Depository
Waterstones
Preorder? –> Submit for a fun TOG Notebook